Sussan AW19 Collection Launch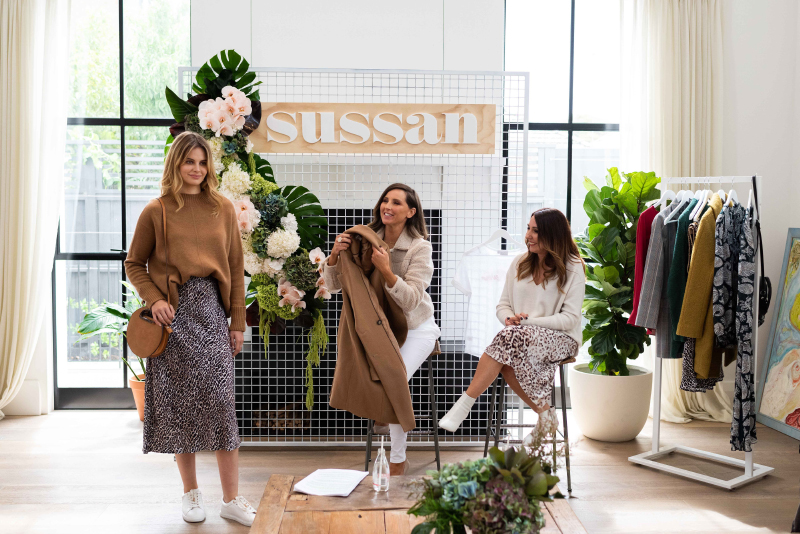 Sussan launched their Autumn/Winter collection last week at a private residence here in Melbourne. I've noticed quite a few events being held at privately held properties of late, a cheaper option perhaps or just a way to find somewhere unique and chic? Because this house as you'll see below is GORGEOUS!
I digress, t'was a lovely morning spent looking through the racks of what's coming up from now until May for Sussan. It's going to be all about jewel tones in soft fabrics, statement coats in camel and Wedgewood blue with a nice dose of slim line pants thrown in.
I could easily see many of the pieces being styled 'up' if you know what I mean – throw on a pair of Aquazzura boots, an Hermès scarf and a vintage snakeskin bag and no one would guess your skirt cost $59.
Highlights
Soft satin bias cut skirts are a highlight of the collection and will be available in emerald green, plum/wine, black and animal print. Easy to wear paired with the aforementioned boots, or a pair of trainers and slouchy knit.
While none of the coats really floated my boat (I'm particular about my coats!) they were undeniably chic. Chartreuse, Wedgewood blue, plaid and camel are all highlights and the price points are extremely attractive at under $200.
You can see more at <a href="https://www.sussan.com.au/" target="_blank" rel="noreferrer noopener" aria-label="www.sussan.com.au (opens in a new tab)">www.sussan.com.au
Stylist Renee Enright shows us through the collection with Sussan buying manager Anna La Pira.

With stylist Anna Mac on my left, and Chelsea from I Heart Bargains on my right.

Wearing Stevie May dress, Zac Zac Posen bag and Murkani jewellery with Next mules.
The post Sussan AW19 Collection Launch appeared first on A fashion blog from Melbourne.
Related Blogs